LanguBridge: A Focus on Language Studies and Travel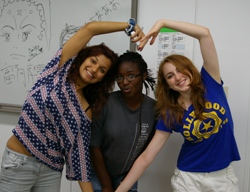 Interested in traveling and learning an Asian language? Then explore the experience of studying abroad with LanguBridge.
Join us on one of our popular study abroad programs for college and high school students. Currently available programs are: Chinese programs in Beijing, Shanghai, China; Korean programs in Seoul, Korea; Japanese programs in Tokyo, Japan and Italy program in Florence, Italy.
Our 2-7 week summer programs have a combination of structured learning and wide spectrum of exciting activities and trips, plus an enriching homestay, or residence experience.
Meet students from the countries around the world. Come with your sincere interest in other languages , you will discover new cultures, make new friends and return with spiritual rewards.
our programs provide:
- intensive language classes
- cultural activities and trips
- residence or homestay
- airport pickup
- medical insurance
- pre-departure information
- high quality and affordable
Some student videos from past video contests:
Carina Smith /2015 Japan Youth Immersion Click here to view video
Alice Cooke//2015 Korea Click here to view video
Daniel Lonsdale/2015 Japan Culture Discovery Click here to view video
Kalia Xiong /2016 Japan Youth Immersion Click here to view video